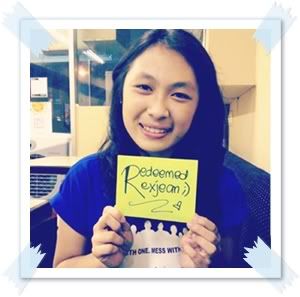 Frances Rexjean C. Magaling || 18 years young || Student nurse at St. Luke's College of Nursing || God's little princess || I love music ever since i was little. I wanna be a doctor someday. I wanna be a singing doctor. :) I love smiles. I love positivity. I love being happy. I love making other people happy. :) I wanna travel the world someday. I love movies. I love foods. I love making new friends. I love God more than anything or anyone else. He's my everything. Ever since I came to know who God really is and what He has done for me, I've nothing to do but give the sweet surrender of my life to Him. There's nothing like His love. I'm falling in love with Him deeper and deeper. He changed my life. And now, nothing's gonna hold me back. I want to share with you guys what is it like to be in His presence and love. I am a friend. :) And I want you all to know that God loves you so much. :) He is waiting for you and He is excited to bring you back home -- into His loving arms. ♥
(Source: joshclooney)
(Source: godsfingerprints)
(Source: icewatertears)
He sure does :)

That's awesome to think about :)
(Source: amazinram)
(Source: jarridwilson)
(Source: spiritualinspiration)
You can't have one foot in and one foot out in your relationship with Christ. It must be all or nothing.
(Source: clayinthehandsofourfather)
Colossians 2:6-7 (by Nicole Harsono)
(Source: hope-will-rise)
No one may accept you after the mistakes you've made, but there is God who will accept you no matter what. He will take you back, and He will love you the same way He always had.
(Source: godstr0ng)