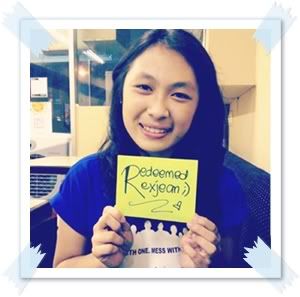 Frances Rexjean C. Magaling || 18 years young || Student nurse at St. Luke's College of Nursing || God's little princess || I love music ever since i was little. I wanna be a doctor someday. I wanna be a singing doctor. :) I love smiles. I love positivity. I love being happy. I love making other people happy. :) I wanna travel the world someday. I love movies. I love foods. I love making new friends. I love God more than anything or anyone else. He's my everything. Ever since I came to know who God really is and what He has done for me, I've nothing to do but give the sweet surrender of my life to Him. There's nothing like His love. I'm falling in love with Him deeper and deeper. He changed my life. And now, nothing's gonna hold me back. I want to share with you guys what is it like to be in His presence and love. I am a friend. :) And I want you all to know that God loves you so much. :) He is waiting for you and He is excited to bring you back home -- into His loving arms. ♥
(Source: laloveleenx3)
(Source: godrite)
Thank You, Lord!!! Love na love kitaaaa!! Thank You sa lahat-lahat! :')
The most attractive quality in a person is one's love for Jesus Christ.
(Source: seitydoesdeosculate)
(Source: godrite)
"To that broken girl, hoping "Mr. Right" will make her finally feel valuable: Only One can love you perfectly. His name is Jesus, and He's already pursuing you. Stop running and come hide in His arms!"
Mattie Montgomery
(Source: radquotes)
ALWAYS. :)
(Source: spiritualinspiration)
Do what Jesus did to Peter, His rebel. Tell that person that you love them. Make sure that the rebels in your life know that you love them, in spite of their behavior. You're acceptance of them isn't conditioned on their behavior.
(Source: asouthernfairytale)
(via imgTumble)
(Source: gracelikeanavalanche)
(Source: inspirationsforlife)